George England's purchased Vietnamese "adopted daughter's" allegations of sexual abuse lead to FL charges
See Southern California child molester faces new charges in Florida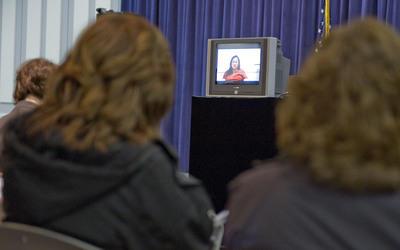 A convicted California child molester who was set to be released from prison was charged today in Florida with using a girl he bought in Vietnam as a sex slave.

The U.S. attorney's office in West Palm Beach, Fla., charged George England, 65, with transporting a minor across state lines for sexual purposes. He is also charged with having child pornography on his computer.
The girl, Jackie Zudis, never underwent a formal adoption process, but was made to live out the role of being England's "adopted daughter" throughout the period he allegedly sexually abused her.
Prosecutors said he purchased a girl from her mother in Vietnam in 1972, pretended she was his adopted daughter and molested her for years starting when she was 5. They lived in California in the late 1970s before eventually moving to Florida.
While he was sentenced to four consecutive terms of one year to life behind bars, he was up to the edge of being released after a mere 3 years.
In the 1977 case, England was granted bail after being convicted of molesting the three girls. He was supposed to settle his affairs before going to prison. Instead, he fled and was a fugitive for nearly three decades before being arrested in Florida for passport fraud then returned to California in 2006.

He was sentenced that year to four consecutive terms of one year to life in prison. Because the crimes fell under the laws of the 1970s, England was eligible for parole after serving three years.
Not only was Zudis herself apparently abused but she alleges England used her to gain access to other girls:
The district attorney's office said England and girl from Vietnam lived in a motor home where England urged her to invite girls from school or the neighborhood.

While on bail, England coached and threatened the girl to deny any sexual conduct with him, authorities said.
After the first 8 years of abuse, she found herself pregnant by England, just as she would have been hitting puberty.
Prosecutors said the girl became pregnant from the sexual assaults at least eight times, starting at age 13. That time she had a baby that was given up for adoption. Other pregnancies were aborted.

The sexual assaults ended at age 16 when the girl threatened suicide, and at 21 she got married and moved away, according to the district attorney's office. She has said she didn't leave earlier because she had nowhere to go.
This article, Prosecutors: Man kept girl as sex slave for more than a decade, from the Miami Herald contains more details.
For one thing, we learn that initial pregnancy only came to full term due to England discovering it too far along, after birth, the baby boy was placed for adoption.
(Yup, some adopted fellow out there somewhere has one heck of a shock in store for him, if anyone ever bothers allowing him access to the truth about his origins, that is.)
It would certainly be interesting to see the original birth certificate on that one, does she list a "father's" name?
As she was a minor at the time, would England have signed the paperwork?
He sexually assaulted three of her young friends, authories said.

He skipped out of sentencing and lived for years in South Florida using the fake name of a dead baby.

And he kept raping the girl, as often as five times a week, impregnating her more than a half dozen times, prosecutors said.
Clearly the mere three years served was seen by at least some as completely inappropriate:
On Thursday, a Southern California prosecutor called a news conference to express his disgust that England, the beneficiary of more lenient 1970s sentencing standards, was about to walk out of prison.

But an aide pulled Orange County, Calif., District Attorney Tony Rackauckas aside to say that wasn't going to happen.

California prosecutors said the FBI and the U.S. Attorney's Office were filing an arrest warrant Thursday in Palm Beach County for crimes England allegedly committed against Jackie Zudis in Florida.
The article also hints that they traveled cross country, so the possibility of other details from other states along the way are perhaps a possibility:
England never was charged because Zudis didn't report him until she was an adult, long after California's statute of limitations had expired.

She has waived her right to anonymity under California privacy laws to protect sexual assault victims "to publicize the crimes committed against her by England and the danger he poses to society," the District Attorney's Office said.

On Oct. 21, 1977, England was convicted in California of three felony counts of child molestation.

Three of Zudis' young friends said England had sexually assaulted them when they spent the night at his house after Zudis had fallen asleep.

England persuaded a judge to let him remain free to settle his affairs before sentencing. He then removed Zudis from protective custody and fled, prosecutors said.

Over the next year, the California authorities said, England moved with Zudis throughout the United States, finally settling in Florida.

He obtained a birth certificate, social security number, driver's license, and passport under the name of Stephen Arthur Seagoe, a child born a year after him but who died at 11 months in Santa Barbara, Calif.

Records show addresses for him in Palm Beach Gardens in 1988 and in Riviera Beach dating back to 1993, as well as in Key West and Fort Lauderdale.
But, naturally, there's even more to story still, it turns out he may be a citizen of another country:
"I have been dealing with the consequences of this monster's lewd acts for over 30 years," one victim wrote California prison officials last year. "[He] has not even acknowledged the wrongfulness of his victimization."

Rackauckas said federal officials had been considering deporting England to Canada, where he claims to be a citizen, before learning of the Florida charges.

"This man spent a lifetime using young girls for his own perverse sexual gratification and never showing any remorse for the emotional and psychological baggage he left his victims to carry. I am sickened that my Office has been denied legal recourse to keep this child molester locked up away from children," Rackauckas said in a statement.

"Had he been convicted under the law today, England would be spending the rest of his life in prison. That's where he belongs, not on our streets and in our neighborhoods."
Adoption secrecy may have played a role in how easy it was for England to pass Zudis off as his "adopted daughter."
As his procurement of her took place in Vietnam in 1972, one has to ask, was he there as a soldier, and if so on which country's behalf?
How did he manage to transport her to the United States?
Did he acknowledge her Vietnamese origins, (and to what extent was she able to) and if so, what was that like for her, a mere five year old at the time with the Vietnamese war still ongoing through that early period, and the social stigma thereafter? The Vietnam Babylift came later, in 1975.
One would think that a single male running around with an Asian appearing five year old through this period might have attracted at least someone's attention.
Single father adoptions weren't exactly an everyday occurrence back then… .
The more we learn about George England, the more questions the entire mess raises.
As always, beyond the microcosm of the individual, many of those questions relate to the macrocosm of adoptionland.
How have the ways in which adoption is practiced in the United States and how adoption is so often laden with assumptions of altruism, (and thus adopters themselves are assumed to be wonderful or even 'saintly' people) played into enabling monsters like England to get away with what he, up until now, by and large has?