National Council for Adoption celebrates 30 years of opposing adoptees' human rights- part II
(This post is a continuation of National Council for Adoption celebrates 30 years of opposing adoptees' human rights- part I)
---
In part 1 I made mention of how NCFA attempts to market itself as merely an advocate for children and as not taking sides when it comes to a variety of key issues related to adoption and reproduction in order to gain the broadest possible audience and support for its output, I said:
NCFA has made a point of pulling the "Fox/Faux" news trick of leaving an impression of having "hearing both sides" in some effort to maintain the pretense that what they offer is in some way to be considered "fair and balanced" but for NCFA, just as for Faux, such is merely a tactic.
Now in part II, I intend to go into a bit more detail.
NCFA has always been very aware of public perceptions of its work and thus decided upon the format of a non-sectarian organization from the outset as part of its marketing efforts, regardless of the fact that many of its founders were explicitly religious adoption agencies and individuals involved were deeply sectarian.
But the Carter administration's Draft Model State Adoption Act was enough to put the fear of the loss of the entire industry into adoption marketers and thus NCFA, originally the "National Committee for Adoption" came as a result of sort of a treaty moment when Catholics, Mormons, Protestants, Jews and others made the decision to work collectively to save their own asses.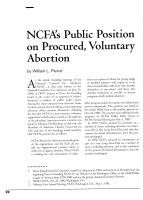 On paper, NCFA's abortion stance is carefully crafted to appear some version of neutral, thus enabling them to garner support from both compulsory pregnancy advocates and pro-choice individuals and organizations.
In NCFA's "Factbook III" lists both their position and the process which resulted in it.
NCFA's position is listed as:
NCFA's Board, the objectives and work goals of the organization, and the Staff do not take an organizational position which is either for or against abortion. What NCFA is working for- the rejuvenation of adoption as an option of choice for young, single or troubled parents- will require us to sit down around tables with those who describe themselves as "pro-choice" and those describe themselves as "pro-life" to discuss programs which include adoption.
But to truly understand NCFA's stance one has to examine both the process by which that statement came to be, and the nature of who has held and continues to hold power organizationally.
As the "FB III" piece explains, at the initial founding meeting for NCFA:
…the founding board discussed a number of public policy issues. Among the topics discussed was abortion. Some of those present favored taking a stand opposing abortion. After extensive discussion, including the fact that NCFA is a sectarian-voluntary organization which seeks to speak to all segments of the pluralistic American society, a motion was made by Marjory Mecklenberg, at that time the President of American Citizens Concerned for Life, and one of the founding board members…
Her motion was and is the NCFA public position.
After being debated and seconded, the motion was passed unanimously.
NCFA has revisited the issue in both 1990 and 1995, but has left Mecklenberg's motion intact.
There are a number of reasons it may have done so, not the least of which being how useful that stance has been to worm their way into various pro-choice organizations and legislators good graces.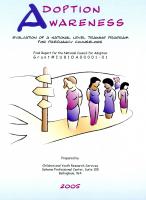 By tactically leveraging this allegedly "neutral" position, NCFA has parlayed its lobbying efforts into what has amounted to not merely the massive international child grab it and its agency members benefited from, but now a public bailout for the adoption industry, sucking on the governments teat for cash, under the guise of a number of programs:
adoption tax credits
federal incentives for child placements out of foster care
various adoption subsidy programs
cash for Coercive Pregnancy Indoctrination Center (so called "Crisis Pregnancy Centers") under the guise of "abstinence only"  programs
and  "infant adoption awareness trainings"
as well as legalized child abandonment/"safe haven"/"baby moses law" funding.
They have carefully positioned adoption (and themselves) as  an issue neither left nor right, when nothing could be further from the truth.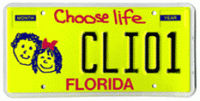 As we've seen with the "choose life" license plate debacle, for many compulsory pregnancy advocates (CPAs) the "opposite" of abortion is adoption. Or returning to the core of NCFA's stance, "Adoption- the best option."
When legislators noted that funds raised by the plates only went towards adoption services, not women who wanted to keep their babies, recommending the plate be changed from "choose life" to "choose adoption" to more accurately represent where the monies would go, the proposal was rejected, as to other legislators both "life" and "adoption" in the "crisis pregnancy" context were essentially synonyms for their desired outcome.
Which leads us to the second aspect of how NCFA handles abortion, as it hardly needs to take an organizational stance against abortion for those with the power and decision making within the organization to be compulsory pregnancy advocates.
For let's face it, every woman's abortion to those in the industry, ultimately represents the loss of a potential eventual child they stand to potentially make a living off of by passing it along to adopters.
NCFA's founding president, William Pierce wore a number of hats, but among them, his work as a senior fellow and the DC office of the anti-gay, anti-evolution, and anti-abortion Discovery Institute. He was also the national Vice President of Democrats for Life.
In Kristen Day's book "Democrats for Life: Pro-Life Politics and the Silenced Majority" she describes Pierce and his work thusly:
My mentor and first vice president of DCFL, Bill Pierce, dedicated his life to promoting adoption as an alternative to abortion and bringing the Democratic Party back to Life… .
Bill Pierce always viewed his baby Moses laws work as crucial to and within the broader context of his anti-abortion work. In short he viewed adoption as a zero-sum-game way of working against abortion.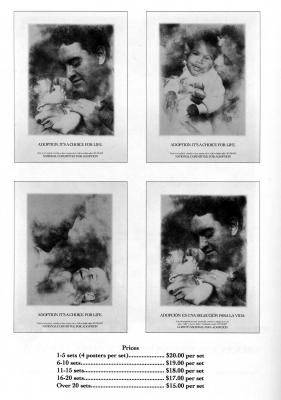 Early NCFA materials reflected that "Life" centric rhetoric before such was scrubbed in an effort to win broader appeal.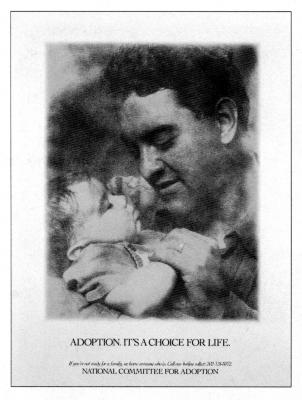 Posters and other materials marketing adoption were emblazoned with the early NCFA slogan,
Adoption. It's a Choice for Life
"Factbook III" contains both Compulsory Pregnancy (CPA) and Pro-Choice chapters.
The CPA  chapter is titled "Pro-Life Approaches to Adoption." It comes first in the book and is authored by Donna Warner, the then  director of center development for Care-Net, a national chain of Coercive Pregnancy Indoctrination Centers based out of Columbus, Ohio.
The abortion supportive chapter is written by Frank Bonati, the then president and CEO of  Family Health Council (FHC) of Pittsburgh, Pennsylvania. FHC is described as "the only non-profit organization in the United States to offer both public funded family planning and state licensed adoption services. " The chapter is entitled "Pro-Choice Family Planning and Adoption: a Case to Strengthen Mutual Support"
It's important to bear in mind that the NCFA "Factbooks" were provided to lawmakers and policy wonks and that the inclusion of an essay such as Bonati's served as a foot in the door, allowing NCFA to maintain that illusion of "neutrality."
NCFA pulled the same tactic out for objection handling how they organizationally handle Queer adoptions.
First up is Lynn D. Wardle's essay "Adoption by Adults involved in Homosexual Lifestyles" arguing against Queer adoptions. Wardle (see his resume and obsessive publication listing here) is a well known rabidly anti-Queer crusader who has made a career out of fighting Queers where ever he may find them.
His writings have appeared in the frothing at the mouth National Association for Research and Therapy of Homosexuality (NARTH) Bulletin. (For more on the nature of NARTH's publications see this post from Box Turtle Bulletin.)
He personally, played a key role on behalf of the Mormon church in the way prop 8 played out in California, see Prop. 8 lawyer vetted first gay marriage initiative with Mormon leaders.
This is then "balanced" by Shannon Minter's "Lesbians and Gay Men as Adoptive Parents."
But again, Minter's essay is there to keep that foot in the door with those NCFA is attempting to market to. Pierce of course was the Howard and Roberta Ahmanson funded Discovery Institute's presence in D.C..
From those early days with Pierce at the head NCFA has served as a real crossroads of major wingnut funders, political figures, and corporate interests.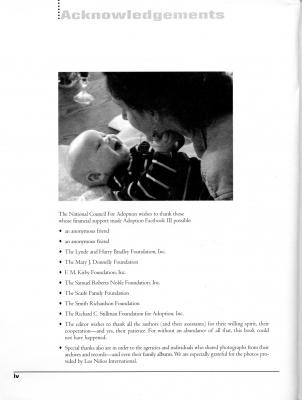 Factbook III, published in 1999, was funded by a number of NCFA friends, among the other notables is the wingnut  Scaife Family Foundation, a major source of funding for "far right" causes for decades now.
Bill Pierce eventually left NCFA and has since passed away, but those who followed in his footsteps are of similar ideology. Chuck Johnson is the latest in quite the interesting line of NCFA heads.
NCFA's boards have always been a who's who of wingnuttery, from that anti-abortion billboard Catholic wingnut Mary Ann Kuharski:
Mary Ann Kuharski
Mary Ann Kuharski is President of ProLife Across America (The Billboard People) and a nationally known author and speaker. She has appeared on many local and national television and radio programs including the Phil Donohue Show. She was a founding member of and past president of Prolife Minnesota and an advisory board member for the National Committee for Adoption. Mrs. Kuharski's articles have appeared in Newsweek, Our Sunday Visitor, Christian Living, Catholic Digest, and many other periodicals. She is the author of Raising Catholic Children (Our Sunday Visitor 1991), Building a Legacy of Love (Queenship Publishing 1997), and Outnumbered! Raising 13 Kids with Humor and Prayer (Servant Books 2006). Mrs. Kuharski is a loving mother of 13 children (six of whom are adopted and several with special needs) and a grandmother of 12. She and her husband, John, live in Minneapolis, Minnesota.
on through to the current chairman of NCFA's board, Mormon Stanford D. Swim, and his GFC Foundation in Utah.
See a profile of Swim's GFC Foundation in Philanthropy The GFC Foundation: Serving God, Family, and Country.
Swim also sits on the board of the Sutherland Institute with it's "stand up to protect marriage" petition, fighting Queer marriage.
For FAR too long now those who might be considered "left" in their political orientation have given NCFA a pass. They see the magic word "adoption" and their eyes glaze over. They overlook the growing church based "orphancare" movement's efforts at church and movement growth through adoption.
Whether they do so out of their own complicit involvement in the industry, their own internalized squeemishness about abortion after more than 37 years of nonstop CPA propaganda, or out of a more general feel good longing to aid what they assume to be "child welfare" efforts they do so not from a position of knowledge or of careful study of what the National Council for Adoption and its pals are up to, but more often than not out of their own responses to the cues NCFA is intentionally sending to keep others from looking too closely.
As Pound Pup Legacy and others have documented, see The adoption industry and politics, an incestuous embrace, "adoption" is a singular realm,
an incestuous copulation of industry and politics under the pretext of the well-being of children.
Looking the other way only allows the adoption industry to utilize the pretext of "choice" and "chosen children" to their own ends.

Non-Legally binding "openness" and "open adoptions" are mere marketing positions for the industry turning to any available strategy to talk women into surrendering their children. But long after the promises of letters and contact disappear in a poof of the adopters moving out of state and cutting contact, at the end of the day, marketing tactics, whether on the political level or the most personal levels are nothing more than that, tactics.
NCFA has no use for legally binding open adoptions. (See the chapter "How Court-Enforceable Contact Agreements Undermine the Adoptive Family" for example.)
They utilize pretty words and pretty promises to ultimately get what they want.
Speaking as a one time kid on the other end of the equation, I'm simply a proud Bastard.
I don't run expensive fundraisers in Washington, I don't auction off Tiffany necklaces to support a child selling industry already awash in wingnut funders, and I don't have multiple lobbies in Washington giving awards to politicians and sipping champagne.
I'm a grassroots activist.
I want all adoptees' and our families' access to our own authentic original documentation restored to us.
I'll be celebrating the day these years of state confiscated records ends.
---
For more, see my
NCFA tag
and Bastardette's
NCFA Names Chuck Johnson Permanent Prez
and more generally,
her NCFA tag
.