Enna, oh Enna! aka When animals outweigh a dead Guatemalan 'adoptee'.
Well, I WAS all set to put up a nice cheery little blog entry this morning, so much for that. Instead, we'll turn to more pressing matters. Expect the happy happy sunshine little blog post at a later, much more appropriate date.
No this morning, we turn our attention to further horror in the Guatemalan 'adoption' community: the death of Enna Barreto a 2 year old 'adoptee'. Originally from Guatemala, her death ruled a homicide, her 'adopters' now face possible murder charges.
Why do I write 'adoption', 'adoptee', and 'adopters'?
Because her paperwork, along with many of her 'adopted' "siblings'" appears to be wholly absent. Immigration and Customs Enforcement (ICE) are trying to figure out the details of how and when the children were brought to the U.S. (legally or otherwise) for the Barreto 'adoptions'.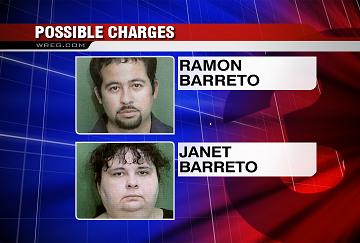 At the moment, there's no explanation of how the kids came to be in the country, let alone came to live with the 'adoptive' couple, Janet and Ramone Barreto. Investigators are trying to determine whether the kids were stolen or not.
But this is all merely the tip of the iceberg. The cruelty goes much deeper.
Yes, I consistently turn to Bastardette's infinite wisdom, pointing my readers there often, but once again, she has written her post on Enna's death and found the words I can't even begin to.
Go across to her blog and read "Mississippi: of Puppy Mills and Baby Mills — If you can stomach it!"
Enna's 'adoptive' 'family' consisted of 9 kids: 2 biological, 7, including Enna adopted/'adopted' (the paperwork is missing on 5 of the kids.) The children are now in custody and investigators are looking into possible physical and sexual abuse.
While local news, here for example, is reporting the deeply disturbing conditions the surviving children are in:
(Union County Sheriff…)
Wilhite said one of the children, a three-year-old, only weighed 20 pounds. That child and two others didn't make any sounds at all to communicate.
many of the stories tend to focus instead on the condition of the animals, not the children. As they cannot use video/photographs of the children, the gist of many of the reports have been on the abuse of the animals.
It's very easy to shoot video of a dog with feces encrusted into its matted fur. Child abuse, even a 3 year old weighing a mere 20 lbs, on the other hand, particularly when there are no kids they can put in front of cameras, fades into the background.
While it may be more comfortable to focus on the animals, a cruelty people can on some level wrap their brains around, the condition of the children while fading to many, is every bit as brutal, as vicious, and as cruel, if not more so.
Stories such as this, where the first mention of Enna appears half way through the article, and only in passing, are much easier to think about. People are cruel to animals, we get that, but that 'nice couple' who were 'loving enough to open their home to all that poor Guatemalan kids'? No. The couple down the road doing something like failing to get a twenty pound child medical care? That's beyond our comprehension, far better to shut it out, brush it aside, and focus instead on the aspects we can concentrate on without causing our brains too much pain.
The television news can show pictures of trucks coming to take the dogs away, they can interview humane society workers who speak on behalf of the animals, but the death of Enna has no pictures. Pieces such as this, particularly the video entitled "Child, animal abuse in New Albany (05-21-08) are dog centric. When a dog buyer's puppy dies not long after it's 'adoption', the owner wishes she had 'looked into it' and advises potential puppy buyers to always go to the breeder's home before forking over the cash.
Whitney Hurdle unknowingly adopted a seven week old puppy, Tootsie, from the Barretos. Hurdle said she found the couple through a classified ad.

"Only one close," she said. "I could get it the next day. Didn't look into it. Now I wish I had."

Rather than get the puppy at the breeder's house, the breeder had Hurdle meet her in a parking lot. That's where Hurdle handed over $500 in cash- the only method of payment Barreto accepted.

"Had a child with her, a little girl," Hurdle said. "Nine or ten. Little girl carrying the puppy. She seemed alright. Gave me the papers."

When Hurdle took Tootsie to the vet for her boosters, the vet was concerned about the teacup yorkie's size.

"He said he'd never seen one that small," she said.

A day after the booster shots, Tootsie died. Hurdle said she hoped her experience would encourage others always go (to) the breeder's home before buying a dog.
It's advice that should be applied equally to child adopters.
Despite the 5 'adopted' children's missing paperwork, that still leaves 2 who were assumedly adopted with normal paperwork. So we're back to my usual questions. Who the hell did the homestudy? What agency placed the kids with these monsters?
Does anyone care?
The one time puppy owner bemoans the small size of the dog.
Does anyone bemoan the fact that Enna is dead and that twenty pounds is no way to be a three-year-old?
Does anyone care?
**********
So allow me to add a few more links to follow with a few more details in addition to the ones off Bastardette, also keep an eye on her comment thread.
North Miss. sheriff says toddler's death ruled a homicide 5/20
"We still don't know what actually happened to this child," Sheriff Tommy Wilhite said in a phone interview Tuesday night. "It's one of the worst cases I've seen in my life."

Sheriff's deputies on Sunday raided the home of Janet and Ramone Barreto near New Albany after receiving a tip from doctors that the couple might have abused their daughter.
and
Wilhite said the Barreto's 2-year-old daughter was taken from a local hospital to Le Bonheur Children's Medical Center in Memphis, Tenn., for an unspecified reason. Doctors there suspected child neglect and tipped off Wilhite on Sunday night, when he got a warrant and raided the property.

The girl died Monday morning. Wilhite said Shelby County, Tenn., officials conducted an autopsy and told him Tuesday that the death had been ruled a homicide.

The sheriff said eight other children have been taken from the Barretos and put into foster care. He said the oldest is 17 and several of the others are younger than 5.
Funeral for 2-year-old today in Pontotoc 5/22
More neglect

Doctors had notified law enforcement officials of possible child abuse after Enna was taken to Memphis.
Pair's bond $350,000 each on endangerment charges 5/23
Enna 'is with Jesus', preacher reminds 2-year-old's mourners 5/23
Seriously folks, I was going to be cheery and have some fun with this morning's entry, but when animal 'adoptions' take up more mental space than dead 'adoptees' a Bastard's just gotta write.