Children hidden in plain sight
In this day and age, in modern America, many people believe it would be all but impossible to keep a child, let alone five children "off the books" so to speak, but sure enough, it most certainly still happens.
Yesterday's Washington Post contained an account of precisely that having happened in York Pennsylvania, a mere hour by car from downtown Baltimore, Maryland.
Five children with no papertrail, no birth certificates, what appears to be no schooling, no medical records, nothing.
See Police: Pa. couple hid 5 children from society.
They lived outside society, hidden from the world in a squalid row house with no heat, electricity or running water. They had no birth certificates, no schooling, no immunizations or evidence of medical care – nothing whatsoever to prove their existence.
Speaking more generally, children in these extraordinary (by American standards) circumstances are among those most vulnerable to various forms of exploitation, abuse or sexual abuse, forced to labor or being passed off as something or someone's they're not.
Also see some of the earlier coverage, such as York couple accused of hiding 5 children in unsafe home
Police later determined that Johnson was staying at a hotel in the East York area, where they found Bowers in a room and five children, between the ages of 2-13, hiding in the bathroom, according to the documents.

Bowers identified the children as belonging to her and Johnson. She provided the names of the children, but refused to answer questions about their place of birth, education, medical treatment, or the location of Johnson, police said the documents.

Police said they searched the South Duke Street home and determined that Johnson and Bowers had lived there with the children for years with no electric or gas service, no water, no functioning toilet, and a roof that leaked.

Authorities said they also determined that none of the children were ever enrolled in a public or private school and were not formally home-schooled, nor were they ever taken to any kind of doctor or given immunizations.

It has since been determined that some of the children suffer health and vision issues and none are at their expected education levels, police said. Possible mental health issues are being investigated.

The children have been placed in protective custody. Investigators said they attempted to interview them but gained little information because the children said they were not allowed to talk about their home and family.

Because the children have no birth certificates on file, their true age and place of birth cannot be determined, police said.
Returning to the Washington Post article, now having been discovered, they are entering the system for the first time and being resettled into foster homes and possibly eventual adoptions.
Years of isolation have taken their toll on the siblings. Now living in foster homes, "some of the children suffer health and vision issues," Ward wrote in an affidavit. "None of the children are at their expected education levels, and there are possible mental health issues."

Since their discovery, the children have been vaccinated and the older ones have been enrolled in school.
Yet perhaps the most interesting aspect of this sad story is that this was not the first time York County and the local police had been alerted to the secret children's existence.
York County Children and Youth Services became aware of the family through anonymous tips in 2003 and again in 2007, but police said Johnson refused to cooperate with caseworkers.

The agency got another anonymous referral in 2009, this time from someone claiming to be a family member who had seen the children. The agency contacted Johnson again, but he remained uncooperative, court documents state.

That led caseworkers to obtain a court order granting them permission to enter the dilapidated house on South Duke Street. By the time they arrived, the family had fled.

Ward said it appeared that all seven family members had lived in a single room on the second floor. He said all the utilities were shut off. Rainwater came through the leaky roof and was collected in buckets.

Police tracked the family to a hotel outside York. Johnson was gone, but Bowers opened the door, her head concealed by a dark veil. The detective found the children hiding in a bathroom, three girls and two boys. They hadn't bathed and appeared unkempt. They left with investigators without saying a word – and refused to provide any information.

"They did say that they were not permitted to talk about the family or the living conditions," Ward said.

The lack of cooperation from either the children or Johnson and Bowers has stymied investigators' efforts to learn more about the family's circumstances.
As the court case unfolds, it will be important to understand why their existence was not revealed sooner.
I've noted not completely dissimilar stories of kids living "off the books" in the wake of adoption disruptions, being passed off to other couples and dropping out of sight, or other children simply kept out of the system from the start.
Just as in many of the adoptee abuse articles I've found down through the years, neighbors were stunned to find the children had been living alongside them silently for years, never having been aware of their existence.
Parents will move into a neighborhood, but neighbors will have no idea whatsoever that there are children living in the house. No one ever sees them come or go, there are no toys in the yard, no sounds, and no evidence of their very existence perceivable from the exterior of the home.
The fact that almost no one knew about the children is even more puzzling because of the urban setting in which they lived. Neighbors say they never saw them, not even once.

Charlton Shaw, 56, a roofer who lives several doors down, said he was unaware of the children's existence until Johnson and Bowers were arrested. "I said, holy heck, how did they do that? You never heard a sound. No kids crying, no kids coming or going," said Shaw, who has lived on the block for 10 years. "How do you mess up the kids' futures like that?"

Gross disputed the notion that his client was hiding her children but acknowledged the family maintained a "very close network of individuals."
The last sentence is particularly concerning, as just with some of the adoption disruption underground networks, it appears Louann Bowers and Sinhue Johnson may have had a few trusted friends who were also aware of the children and helped maintain those walls of silence around them.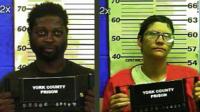 Also see this CNN piece, Couple faces charges of hiding 5 children from society
The children — ranging in age from 2 to 13 — have no birth certificates, no record of immunizations and no school records, having been largely kept away from society for several years, York County police Lt. Tim Utley said.

"You always have the occasion when people are living in poor conditions, but this was extreme," Utley said. "They're going to have to be assimilated into what's not considered normal for them."

The parents, Louann Bowers and Sinhue Johnson, were arrested over the summer, when the children were found.

They have been charged with five felony counts of child endangerment and are awaiting a court appearance Friday.
The Washington Post article also hints at Bower's desire to avoid detection and this potentially being more ripple effects of her desire to stay off the radar, leading to speculation about whether or not she had faced an abusive situation or similar at some point in her past.
Bowers ran away from "a very chaotic household" when she was 16 and "didn't want to be found," attorney Ronald Gross said.

"I think, unfortunately, Mom's desire to not be found by her family impacted the children's growth," he said. "She realizes now, `I should have done it differently.'"
The CNN piece elaborates:
Bowers ran away from home when she was 16, which may have contributed to her private adulthood, Gross said.

She gave birth to her sixth child Monday in York County prison, he added.
Sadly, it is the kids who appear to have had little to no choice in protecting Bowers' secrecy.
The toll it has taken on them, and the years of coming to terms with these extraordinary circumstances that lie ahead for them must feel almost insurmountable obstacles for kids who appear to have never known any other way of living.
Their world is essentially gone now, and odds are, they are ill prepared for the challenges ahead of them.