When pregnancy provides "evidence" of having broken the terms of your parole: Jail followed by death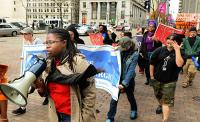 Amy Lynn Gillespie died in a hospital still in custody after being transferred from Pennsylvania's Allegheny County Jail last January.
She had been hauled off to jail once it was discovered she was pregnant.
Her pregnancy was used as evidence of her having broken the conditions of her previous parole, specifically, the "no-sexual contact" conditions of the work release halfway house she was forced into.
See County sued over death of pregnant inmate*
Amy Lynn Gillespie, of Cuddy and, later, Knoxville, was jailed in December for violating the terms of her work release by becoming pregnant. Initially found to be in good health, according to the complaint filed by Downtown attorney Robert N. Peirce, she was complaining by the end of that month of difficulty breathing and discharge from her lungs.

Treated for viral influenza and denied diagnostic tests, according to the complaint, she worsened and then was transferred on Jan. 1 to UPMC Mercy. There she was found to have bacterial pneumonia, too far advanced to be successfully treated with antibiotics
As the article makes clear, Amy's mother is now suing the county and numerous individuals and corporations healthcare had been outsourced to, all allegedly involved in her daughter's death.
Ms. Gillespie's legal troubles started with a pair of shoplifting convictions in 2004. In 2007, she was caught taking shampoo and steak from the Bridgeville Giant Eagle, and told the arresting officer that she did it because she was hungry. That year she was also caught stealing two $55 silver rings from Macy's, Downtown.

In 2008, she was picked up for soliciting men on Brownsville Road. Put on probation, she was referred to the Program for Reintegration Development and Empowerment of Exploited Individuals, which offers counseling and services to women arrested for prostitution.

She didn't comply with her probation terms and was sentenced to six to 12 months of jail or alternative housing in February 2009. Mr. Peirce said she would have been released around the beginning of this year had she not become pregnant, been jailed, and gotten sick. He said UPMC Mercy did not appear to be liable.

Named in the lawsuit are the county; jail Warden Ramon C. Rustin; the nonprofit Allegheny Correctional Health Services Inc., which provides medical care in the jail; its president, Dana Phillips; and several unnamed jail personnel.
This is not the first time ACHS has been sued.
ACHS was created by the Allegheny County Health Department in 2000 to eliminate the contracting of jail health care to private firms. It has been sued six times in federal court since the beginning of 2009.
As others have pointed out, at the core of this case are the human and reproductive rights violations.
The jail's adequacy for women, notably those who are pregnant, has been criticized by the human rights organization New Voices Pittsburgh: Women of Color for Reproductive Justice.

Ms. Gillespie's story is "clearly a reproductive injustice, and it's a human rights violation," said LaTasha Mayes, executive director of New Voices Pittsburgh. She questioned whether a transfer to jail was an appropriate response to pregnancy.

"Ms. Gillespie should still be alive," she said.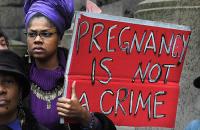 This past Tuesday (November 23) a coalition of activists marched in to demand fundamental changes to the system. See Pregnant inmate's death protested
*"For her to die having been an inmate in our jail, to [which] she was returned because she became pregnant … is totally paternalistic and insane," said Donna Fisher, a Downtown resident and retired librarian who joined the march from the Allegheny County Courthouse to the jail.

The march was organized by New Voices Pittsburgh: Women of Color for Reproductive Justice. Joining the effort were the Human Rights Coalition, The Birth Circle, the American Civil Liberties Union, the Women and Girls Foundation and the Women's Law Project.
and a second article, Inmate's death the focus of Downtown protest
Women and Girls Foundation CEO Heather Arnet said that jail Warden Ramon Rustin has worked with similar coalitions to resolve issues like the shackling of women during childbirth, which was discontinued.

She said the Gillespie lawsuit "raises so many questions about what the quality of care was while she was in jail." She also said that the circumstances of Ms. Gillespie's return to jail raise the question of whether no-sexual-contact conditions for work release may be inherently discriminatory, since only women display outward evidence of intercourse.
Various other bloggers have also picked the story up, gone into far more detail, and in many ways already written precisely parts of the analysis I was set to sit down to write.
See for example, Woman Jailed for Becoming Pregnant, Then Died From Lack of Medical Treatment
It's time to stop denying people of their fundamental human rights. It's time to stop detaining them when they've done nothing to materially harm anybody. It's time to stop treating people who cause harm like they, too, deserve harm, no matter how appealing vengeance may feel. It's time to stop treating other human beings' bodies like property, to stop seeing health care as a privilege, to stop behaving as though we have any right whatsoever to tell other people what they can and cannot do with their own bodies and reproductive functions. Not a single case of denying a person's right to make their own reproductive decisions is acceptable. Not a single case of prizing property over human beings is right. Not a single case of letting someone die because we thought they were a liar, or worthless, or a slut, or whatever, is okay.

We're seeing all of these things right here, but they happen separately all the time. They're all culpable for Amy Gillespie's death. And if we keep the system going as it is, there will inevitably be more like her.
Also be certain to see Suit filed in death of pregnant Allegheny County Jail inmate, the article Cara from The Curvature describes thusly:
The allegations regarding how, exactly, she died are also particularly horrifying:

[The lawsuit] alleges that while Gillespie was serving a 30-day jail sentence, at least one guard ignored her request for help and the jail's medical staff failed to diagnose her pneumonia early enough.

"Stick it out," one guard told Gillespie when she asked for help three weeks before her death, the lawsuit states. […]

Gillespie nearly completed her original sentence for retail theft when she got pregnant, a violation of terms in her halfway house, Peirce said. She arrived in the jail Dec. 2, and though she complained to guards for weeks about breathing trouble and discharge from her lungs, she wasn't sent to the infirmary until Dec. 29, according to the lawsuit.

The medical staff first diagnosed her problem as viral influenza. After three days, jail staff sent Gillespie to the hospital, where doctors diagnosed pneumonia and noted that the jail didn't treat her fast enough, according to the lawsuit.

She was sedated and breathing with the help of tubes for nearly all of the two weeks she spent in the hospital before she died.

We'll have to wait to see if all of the allegations pan out, but the fact is that they are not even remotely unusual. Claims of medical treatment being denied while in detention are extraordinarily common. Our governments routinely fail to treat detained persons humanely, and few people care because of how severely we've dehumanized any and all people who are in jail or prisons, and internalized the notion that they deserve whatever indignities we impose on them. No one cares because we've decided that "bad" people aren't really people anymore, and that all people in jail or prison must be bad. Even if all they did to get there was get pregnant.
As mentioned above there are a number of organizations working in support of the Gillespie family and for structural change. Here are several links to use as a jumping off point: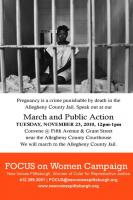 * Note, I am using some articles out of Richard Mellon Scaife's fetal fetishist right wing rag, the  Pittsburgh Post Gazette, as that's some of the local coverage. Linking to such should not be taken to imply I support their framing concerning "fetal death" etc.