Another reason the catholic church continues to oppose open adoption records: Priests' secret kids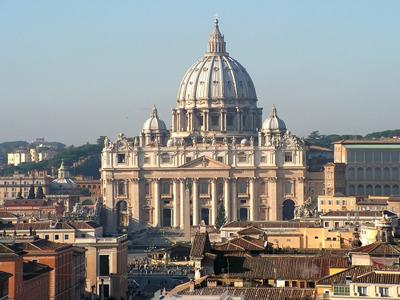 I've blogged before about how the prospect of adopted people regaining access to their original birth certificates is opposed and seen as a threat by the catholic church.
See, Prospect of open records makes IL Catholic Conference fearful of potential lawsuits and how in the course of that, the Illinois Catholic Conference outright admitted that they may have falsified information on a number of those original birth certificates.
As Marley wrote in a comment to my post at the time:
I have never heard any industrialist admit falsification of government birth records before. While some women may have put false information on a bc of their own volition, this statement comes out of nowhere. Absolutely no context. It suggests that there was a systematic program to place false information on a government document. Who put those thoughts and actions into women's minds? Who instrumented falsification. If a systematic pattern of falsification is uncovered in even one diocese, the game is over.
Marley's post covers it pretty well:
I 100% agree with Gayle that the Illinois Catholic Conference put its foot in its mouth by admitting that some obcs may contain fraudulent information. Amended birth certificates aside, placing false information on a birth certificate is illegal. We can only wonder at whose suggestion false information was placed on the obc document. Could this be one of the causes of adoption industry fear of unrestricted records access? Adoption professionals advised their clients to falsify government documents, and the chickens might be headed back to the barn?
I've also blogged about the ongoing case in New Jersey, where NJ Catholic Charities facilitated "reunion" turned out to be nothing more than yet another lie.
Catholic Charities has for all intents and purposes "lost" a child placed for adoption, and offered up another adoptee completely non-related in a false "reunion."
DNA testing revealed the lie, but NJ catholic charities response was essentially, tough shit. They are now being sued.
To say this has been heartbreaking for both the parents and the (non-related) adoptee would be a gross understatement. They each "found family" again only to find it to be nothing more than a lie.
As for the adoptee's authentic parents, or the lost child, there whereabouts are simply unknown, lost in catholic charities system. Any documentation may simply no longer exist.
(The entirety of the New Jersey open records fight, and the current ANTI-adoptee bill S799/S1399/A1406 must be understood within this broader context of the catholic church's interest in working to cover its own ass. )
But beyond the church's fear that their paperwork lies may be unconvered lie whole other interests to protect, and stories far more damning.
What hides in some of those adoption records that the catholic church is desperately working to either keep closed (or at minimum inject themselves into process of passing the information out as a means by which to maintain control) are secrets that cut to the very core of who catholic priests say they are.
Secrets that stand to rock their followers' faith in them and the church itself as an institution with it's "celibacy" lies and sexual problems front and center.
Meet the lovers and secret children of the priests, who are organizing themselves and bringing suits of their own. (This is an older article, but a good overview.)
Errant priests' secret children to sue church
When Pat Bond told her lover Henry Willenborg, a Franciscan priest, that she was pregnant, he urged her to have an abortion.

Bond, who was 28, had a miscarriage and then became pregnant again. This time Willenborg's superiors urged her to give up the child for adoption.

Bond, from Missouri, kept the child but agreed to a vow of silence. In a signed contract with the Catholic Church, she undertook to keep the priest's identity secret in exchange for financial support for her son, Nathan.

In America, Britain, Ireland, Germany, France, Italy and Austria,women made pregnant by priests have signed such pledges in exchange for hush money from the church.
When we as adoptee rights advocates argue for the restoration of access to our original birth certificates, a right adoptees used to enjoy just like anyone else, some of the adoptees we're going to end up talking about are the secret children of catholic priests, their origins hidden by the church in collusion with the state's sealed records policies.
As the evidence of such comes to light, the church's adoption scandals stand to rock parishes and may potentially rival the church's child molestation scandals in terms of trust and faith in church leaders.
Damn straight they don't want any of this coming to light.
Hence the decades worth of hush monies.
Bond was 25 when she started a five-year relationship with Willenborg in 1983, after going to him for marriage counselling. He kissed her passionately as she left his parlour, then she left her husband.

After Bond became pregnant by him for the second time in 1986, Willenborg's order, the Order of Friars Minor, offered her $50,000 and a confidentiality contract. "They said: 'Here, take this money, sign this contract and you'll have support for your child'. I was very naive and I signed," said Bond.

She broke her promise of silence last year after the Franciscans refused to meet part of the cost of treatment for her son Nathan, then 22, who died in November from a brain tumour.

When Willenborg's liaisons with Bond, now 53, and another woman became public, the priest was suspended from his parish in Ashland, Wisconsin. He was treated for sex addiction, then returned to his pastoral duties. Catherine Schroeder, a St Louis lawyer for the Order of Friars Minor, declined to comment. Willenborg and the order failed to return calls and emails.
We've got a local case here in Maryland.
Other cases are reaching the US courts. In Maryland, two children of the late Father Francis Ryan are suing their local archdiocese and a religious order for $10m after discovering through DNA tests that he was their father.

Carla Latty, 58, and Adrian Senna, 65, say Ryan never admitted he was their father or made any payments to their late mother. Senna was sent to an orphanage, while Latty was put up for adoption.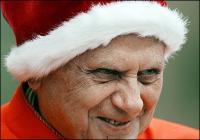 The scope of the problem is massive, it's worldwide, and it certainly appears to go all the way to the top, up to that asshole Ratzinger/Pope Benedict XVI himself, as he was part of the clean up crew when it came to making these little indiscretions disappear. (Emphasis added by me)
Cait Finnegan, of the Good Tidings association, an American charity for priests and their lovers, has been contacted by nearly 2,000 women who had relationships with priests. She said one pregnant friend had been told by a bishop to "get rid of the child" — a comment she took to mean she should have an abortion. The woman kept the baby.

Thousands of priests in German-speaking countries are believed to have fathered children. Paul Zuhlener, an Austrian theologian, has estimated that up to 22% of Austrian priests have sexual relationships.

Sabine Bauer of the Austrian branch of We Are Church, a reform group, predicted a spate of lawsuits. "The children of priests, and their mothers, are the next ones who will take legal action against the church. Their numbers are large and they have been denied basic rights," she said.

In Britain, Adrianna Alsworth, who has two children by a priest and runs the Sonflowers helpline for those who have had relationships with priests, said she knew of several women who had been offered confidentiality contracts in return for child support.

"The children aren't given an opportunity to have a normal family life, and they suffer," she said.

In Ireland, the former Down bishop Pat Buckley, who runs Bethany, a support group for women in relationships with priests, said he had dealt with two whose abortions had been paid for by priest lovers. In one case, the priest had accompanied the woman to England for the abortion.

In central Italy, Luisa, a psychologist who has an 18-month-old son by a priest, was told by her bishop: "If you give up the baby for adoption, you can stay with the priest and I'll pretend there's nothing wrong." She refused but the couple have since broken up and the priest refuses to recognise the child.

Lorenzo Maestri, a former priest and member of Vocatio, an association for married priests in Italy, accused the Pope of leading a cover-up. "Benedict is responsible for the secrecy, because in 2001, as head of the Vatican office which dealt with all sexual problems involving priests, he ordered the bishops to send these cases to him in Rome," Maestri said.
In many states what Bastards fighting for open records are up against is nothing short of the full resources and efforts of the Catholic Church. (Though as Marley has noted, the Archbishop in Portland, Oregon had the decency to stay out of the way of the Measure 58 effort that eventually opened records there.)
These were kids no one was supposed to know about.
An untold number of dollars were spent to ensure those secret children remained secret.
We're talking about the likely possibility that monies went from the collection plates through the churches back out into hush money for priests' lovers and their children.
And Rat-Benny appears to have been right in the middle of it.
As for the kids themselves, this pretty much says it all:
Benedict, whose fifth anniversary of his election is tomorrow, may acknowledge the child-abuse cases by agreeing to meet seven victims on his Malta visit. There is no such prospect for the children of priests. When asked what she would like the pontiff to do, Bond quoted her late son: "Nathan told me, 'I want the Pope to tell me he's sorry. The church abandons us, it calls us legal obligations. It doesn't even call us by our names'."