Sylvia Sieferman's sentencing after the attempted murder of her adopted Chinese daughters- Minnesota
I began compiling notes to do a post last week about the sentencing and conclusion of the attempted murder trial of 61 year old defendant Sylvia Sieferman. It has taken me a bit of time to get my ducks in a row, so while this is slightly belated, it's still deeply important, particularly in light of the broader questions (far beyond that of sentencing Sieferman) of how these events were enabled to unfold.
In August 2008 Sieferman went on a bloody rampage, wielding first a knife, then an axe trying to murder her two adopteed Chinese daughers, (now named) Hannah and Linnea.
The attack was concluded by Hannah's escape to a neighbor's home who called the police, Sieferman's own attempted suicide, and a note left in the bedroom saying among other things "sorry, I can't deal with them anymore."
Linnea had her throat slashed and multiple stab wounds.
Hannah, after first seeing her sister attacked, was then also attacked with a knife, and struck at least five times by an axe. In the course of the attack she ran downstairs to a bathroom, but neglected to lock the door. Sieferman found her and Hannah suffered further attempts to stab her in the neck and in the heart.
Incredibly, she defended herself by grabbing the blade, causing severe lacerations on her hand. Somehow she was able to escape and made it to a neighbor's house to call for help.
When police arrived at the house,
The 60-year-old woman, sitting cross-legged in front of her house in this St. Paul suburb, was bleeding profusely from her neck.

Inside the house, the horror continued: Blood was everywhere, and the woman's 11-year-old daughter was lying unresponsive on her bedroom floor in a pool of blood. Her throat had been cut. And at a neighbor's house, the woman's other 11-year-old daughter was also bleeding – from knife and ax wounds.

"Kill me! Kill me!" the woman yelled as police approached her, according to a criminal complaint filed Friday in Ramsey County District Court.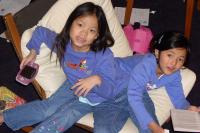 The girls barely surived.
Linnea Sieferman suffered life-threatening injuries and was in critical condition at Gillette Children's Hospital in St. Paul.
and
Hannah was in good condition at Gillette Children's Hospital, where she was being treated for head trauma, a fractured skull and severe lacerations to her hand.
Here is a Star Tribune piece filed at the time, back in August almost a year ago.

Sieferman's excuse for the vicious attack? (also see video connected to the piece,)

When Sieferman entered her plea, she told the court she planned to kill the girls because she feared they would be placed in foster care and raised by strangers.
Ironic, in that at the time she adopted the girls Sieferman, herself an American "stranger" became a single mother (adopting Hannah at age 53.)
This twisted form of rationalization is all too familiar to those who work in the domestic violence field or adoptionland: family members who decide "their" families are better off dead than beyond their reach.
As part of her adoption process Sieferman blogged about the adoptions, though the blog has since been taken down.
Neighbors said Sieferman is a single mother who adopted the girls from China. Her online blog identifies the girls as Hannah, adopted in 1999, and Linnea, adopted in 2003.

The blog contains Sieferman's account of her longheld desire to adopt daughters from overseas and her joy upon meeting them and watching them grow.
Quotes from the blog can still be found online such as this one, describing the final post dated 2005,
"I suppose my adoption journey really started 25 years ago, when I used to dream of adopting an Asian girl someday," Sieferman wrote. After reading an article on the subject, "(I) started off to explore exactly what would prevent me, then nearly 50 and single, from becoming a mom."
But this attack did not come out of the blue, Sieferman had told medical personnel she feared harming the girls,
Sylvia Sieferman was hospitalized two months ago after fearing she might hurt herself or her daughters, former neighbor Carrie Micko told the Star Tribune of Minneapolis.

Micko said she didn't understand how Sieferman could be released and the girls go back into the home, apparently without any follow-up. "Somebody should have gotten the clue that unless the circumstances at home changed those kids should not have gone back into the house," she told the newspaper.

Roseville police Capt. Rick Mathwig said that in this case, rules involving patient confidentiality would have likely prevented police from knowing if there had been trouble in the home.
"Bad Mom,"
During the assault, Sylvia Sieferman said "I'm a bad mom" and "I had to do this," according to her daughter's account of the assault.
Clearly her self image and self doubts as a(n adoptive) Mother played an important role in the attack.
At least one neighbor was aware of the concerns,
A former neighbor, Carrie Micko, said Sieferman was severely depressed and worried about the safety of the girls.
Micko, in fact, was the one who took her to the hospital,
In the six and half years between when she adopted Hannah and now, Micko said many things changed. She said one of Sieferman's homes was in foreclosure and she'd lost several jobs.

About two months ago, Micko took Sieferman to the hospital. Sieferman had been making comments that she wanted to hurt herself and her children.

"Her children were everything to her. Her whole life was about her kids," she said. "And after a series of financial mishaps, she just couldn't see her way through. She was under extreme financial, emotional and spiritual distress and didn't want to fail them. She couldn't bear to have them see her fail."

Micko said Sieferman left the hospital after three days because she had some job interviews lined up. Sieferman also feared the county might take her children away. Micko said she tried to talk to the social workers and hospital personnel but couldn't get through because she wasn't family.
Fear of failure and adopter expectations, and appearing to fail against the societal standard of parents appear to have played an important role.
From further down in the story, we learn,
Neighbors said Sieferman had foreclosed on a home and was having legal problems.
and
"It didn't have to happen. She was very clear about her intentions and told them and I think that was her way of saying help me, that the children," Micko said. "They didn't respond the way she was hoping or I was hoping."

According to the Mental Health Association of Minnesota, doctors could have involuntarily committed Sieferman for six months. Generally, though, they prefer friends or families members to encourage them to stay voluntarily.

Tom Johnson, a client advocate with the Mental Health Association, wouldn't talk specifically about Sieferman's case, but said ones like hers are difficult.

"It can be an easy process if it's very clear the person is a danger to herself or others," he said. "It's not quite as easy is someone has said outside 'I'm going to do something to myself' but then they come in to the hospital and the doctor sees them and the person says 'I wasn't really serious about that.'"
Ironically, Minneapolis IS one of the places in the county that is set up to provide a sort of "time out" by way of emergency child care, though it is unclear whether Sieferman was aware of the program at the time. Clearly fear of losing the girls is part of what led to her decision to leave the mental health services.
Micko said a group of neighbors stepped into the watch Hannah and Linnea when Sieferman was in the hospital. She also when social workers mentioned protective custody to Sieferman, she wanted to leave the hospital.

Molly Kenney, interim program director for the Greater Minneapolis Crisis Nursery, said her organization is there to help families like the Siefermans. Families in need of help can call the nursery for advice or a safe place for kids to stay. Children can stay there for three nights at no cost to give parents a break. Kenney said it helps to prevent violence.

"The point is they have to call us and that reaching out for help is the first point of entry we see as a sign of strength," she said. "They want what's best for their kids."

The Crisis Nursery parent hotline is open 24 hours a day. Each county in Minnesota also has a 24 hours crisis hotline.

Hennepin (Children): 612-348-2233
Hennepin (Adult): 612-379-6363
Washington: 651-777-5222
Anoka: 1-888-422-6522
Dakota: 952-891-7171
Carver: 952-442-7601
Ramsey (Adult): 651-266-7900
Ramsey (Children): 651-774-7000
Still, in light of the fact that she Sieferman was explicit about being a potential threat to the girls, where was the follow up? Why was she simply allowed to return home to them?
The lack of follow up, and unwillingness to step in to protect the girls was a direct factor that led to the horror that ensued.
Thus this is not merely a matter of Sylvia Sieferman failing these girls in one of the worst ways imaginable, it is ALSO a failure of the system itself.
Where is the investigation of ultimately whose job it was to ensure that a woman who had threatened her adopted kids lives wasn't just left alone with them to do with as she pleased?
Apparently with Sieferman now sentenced there appears to be a growing consensus that everything has been taken care of and it was all merely an individual problem. Nothing could be further from the truth.
Ignoring the systemic failures only ensures the same mistakes will be repeated.

By and large I've been unable to find the direct voices of the girls speaking for themselves, though I did find this one small paragraph
When police arrived Hannah told them her mother "attacked me and my sister with a knife. My sister should be dead." She said that during the assault her mother said, "I'm a bad mom, I had to do this."
Police at the scene discribed it thusly
"This townhome has five levels to it and when I went in there and looked, there was blood on at least three levels. Pools, splatters and things like that. It's a horrible, horrible thing to look at," said Captain Rick Mathwig of the Roseville Police Department.
…was sentenced in Ramsey County District Court to 16 years and six months for one second-degree attempted murder charge, and 12 years and 7 1/2 months for the other charge. She will serve at least two-thirds of that time for each concurrent sentence.

Sieferman pleaded guilty in May to spare her daughters the trauma of trial, her attorney, Paul Rogosheske, said. She initially faced a first-degree attempted murder charge.
While you might think there would be massive media coverage, or international coverage, most of what you" find online treats it as a mere local story.
What coverage there has been has often tied it to the larger story of the American financial meltdown (see this piece as well,) rather than understanding it in the context of the nuances of adoption and expectations specific to adoption marketing like giving a child "a better life" so often create. (As better life" so often translates directly to children coming from economic dire circumstances to wealthy western adopters.)
The girls are recovering from their many injuries and are now living with a family member (of their adoptive mother.)
A fund has been set up to help them go forward with their lives.
HOW TO HELP HANNAH AND LINNEA

A trust fund has been set up for Sylvia Sieferman's former adopted daughters. Donors can contribute at any Wells Fargo branch, or they can mail donations to Sieferman's civil attorney, Cynthia Stange, at 1970 Oakcrest Ave., Suite 217, Roseville, MN 55113, payable to the Hannah & Linnea Sieferman Trust.
Much as I wish that was all there was to the story, naturally it isn't. Because in the midst of it all a quack pseudo-therapy "attachment disorder" self promoter has decided the brutal attacks could make a useful career stepping stone.
A Search for Survivors has a comprehensive overview of the case and then reports on Heather Forbes' efforts to utilize the attempted murders to gain media personal appearances in this piece,
Far beyond mere 'ambulance chasers', people like Heather Forbes view every blood spattered townhouse as an opportunity.
Attachquacks of course, don't blame the Adoptive Mother, they don't blame the system, nope, they blame the adoptees themselves, (quoting the ASFS post,)
Never mind the fact that Hannah and Linnea Sieferman were clearly intelligent, sweet children. Never mind the fact that their adoptive mother had serious mental problems, to the point where she was willingly checked into a hospital to prevent her from hurting herself and others.

No, to Heather Forbes and the rest of the RAD cultists, the fault lies with the children, never the parent. By virtue of being adopted, children are automatically written off as traumatized, disabled, inferior and ultimately the catalyst for any tragedy, no matter how undeserved or utterly indefensible.