Florida, Queer Adoptions, and the reek of George A. Rekers & a cast of cronies
Blognote-
I'm still working with the Mississippi data, so I don't have that post ready to go this evening.
Instead, I'll go on and write about the big news out of Florida and then hopefully come back to the second Mississippi post later on this weekend.
---
So Tuesday's major news was that the Florida Department of Children and Families (DCF) has decided it is not going to appeal the Third District court ruling.
DCF won't appeal overturn of gay adoption ban
Florida's gay adoption ban won't be enforced anywhere in the state after the Department of Children and Families decided Tuesday not to appeal the ban's overturn to the state Supreme Court.The only way the case stays alive is if Attorney General Bill McCollum separately decides to appeal to the Supreme Court to keep the ban in place. He would have to do so without the support of the child welfare agency, which is changing its forms so adoptive parents aren't asked if they're gay.

If McCollum doesn't appeal, it will end the three-decade old ban that was considered the strictest in the country. The state's 3rd District Court of Appeal last month upheld a 2008 ruling by a Miami-Dade judge, who found "no rational basis" for the ban when she approved the adoption of two young brothers by Martin Gill and his male partner.
Also see DCF won't appeal ruling against Florida's gay-adoption law
Florida child welfare administrators will not appeal last month's ruling that tossed out Florida's controversial gay-adoption law.

George Sheldon, secretary of the Department of Children & Families, announced Tuesday his agency will not appeal a ruling by the Third District Court of Appeal that declared the 33-year-old law unconstitutional. The ruling involved two former foster children adopted by Frank Martin Gill, an openly gay North Miami man who took custody of the boys under DCF's authorization.

"It's clear that the District Court of Appeal decision is of statewide application, and it will be binding on all trial courts across the state," Sheldon said.

As of last week, the state had exhausted the time to challenge the Gill adoption, and so, regardless of the law's status, the two children will remain Gill's adoptive children, Sheldon said.
Governor Charlie Crist has also vowed not to appeal. See Florida Gov. and agency won't appeal court adoption ruling.
What course McCollum ultimately decides to take remains to be seen:
McCollum's communications director, Ryan Wiggins, said in an e-mail October 12, "We appreciate [DCF's] announcement, and look forward to a conversation with DCF about what the next actions will be." By law, McCollum has until October 22 to appeal.

McCollum has been criticized by LGBT rights groups and others for paying clinical psychologist Dr. George A. Rekers more than $120,000 to testify in the trial court that children do best with a mother and a father. The appeals court upheld the lower court's finding that Rekers' opinions "were not valid from a scientific point of view." (Rekers was later found traveling with a gay male escort who claimed Rekers himself was gay, although Rekers has denied it.) The Miami Herald reported in June that it had obtained records showing that McCollum hired Rekers despite repeated objections from DCF.

McCollum told the Florida Baptist Witness in August, "I don't believe in gay adoption"—but Orlando Sentinel columnist Mike Thomas reported that in May, when he had asked McCollum if he favored taking the boys from Gill, McCollum mentioned a gay campaign aide who had adopted children and said, "Let's leave it at that."
Rekers has been on my radar for a long time, and should be on Bastards' lists of notable usual suspects as well.
His work against gay adoption dovetails nicely with his position as former "scientific adviser" to the infamous rabidly anti-Gay NARTH, or National Association for Research & Therapy of Homosexuality.
Another notable facet of his resume is being a founder of the Family Research Council (married- hetero) adoption marketers and co-publishers of such drek as "Birth Mother, Good Mother" along with the National Council for Adoption.
Rekers is also part of the fake pediatricians group, American College of Pediatricians, created by NARTH and the Liberty Counsel as their wingnut front group alternative to the American Academy of Pediatrics. (see Anti-Gay Liberty Counsel Peddles Fake Anti-Gay Pediatricians Group.)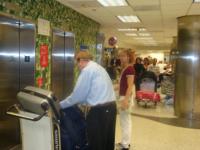 But wouldn't you just know it, when he's not busy being the darling of the wingnut right, Baptist Minister Rekers apparently like to treat himself to male prostitutes.
The Miami New Times reporter Brandon K. Thorp managed to snap this lovely snapshot of George Rekers and with a "special friend" coming home from their trip together at Miami International Airport back in May.  The full article broke the news, Christian right leader George Rekers takes vacation with "rent boy."
On April 13, the "rent boy" (whom we'll call Lucien) arrived at Miami International Airport on Iberian Airlines Flight 6123, after a ten-day, fully subsidized trip to Europe. He was soon followed out of customs by an old man with an atavistic mustache and a desperate blond comb-over, pushing an overburdened baggage cart.

That man was George Alan Rekers, of North Miami — the callboy's client and, as it happens, one of America's most prominent anti-gay activists. Rekers, a Baptist minister who is a leading scholar for the Christian right, left the terminal with his gay escort, looking a bit discomfited when a picture of the two was snapped with a hot-pink digital camera.
To say this has caused "a bit of a stir" would be a vast understatement. If nothing else, it led to his resignation from NARTH.
But as the KNS article makes clear, the Gill case is not a stand alone and there are other rumblings on the horizon:
Despite the DCF's decision not to appeal the Gill case, Follick said it has not yet determined whether to drop its appeal in the case of Vanessa Alenier, a lesbian who in January was allowed to adopt the infant cousin for whom she was a permanent guardian. The Third District court heard arguments last month.

Alenier's lawyer, Alan Mishael, said he does not yet know how the Gill decision will impact his client's case, which has been argued on different grounds. Gill's attorneys argued that the adoption ban violated the principle of equal protection—that all are equal before the law. Mishael is arguing that it goes against a state prohibition on "special laws" telling judges how to rule in adoption cases, violates the separation of powers between government branches, and is a bill of attainder—legislative punishment of a defined group without a judicial trial.

Judge Cope, who wrote the opinion in the Gill case, is one of the members of the three-judge panel that will decide the Alenier case.

Mishael also noted that McCollum did not appeal rulings that had granted adoptions to Mishael's client Wayne LaRue Smith and to Robert Lamarche, both gay men.

DCF, said Follick, did not appeal those cases because the men were already permanent guardians, and the children were not being adopted directly out of state care. McCollum's office did not respond by press time as to why McCollum did not appeal on his own, however.
The Florida Family Policy Council, an affiliate of Focus on the Family has been up to their usual smarmy ratfucking in relation to this case as well. Quoting the Queerty piece:
In notifying its mailing list about the "arrogant judicial activism," the FFPC included a photo of the pair (at left) to show supporters just how repulsed they should be by the adoption case. Except that's not the adoptive couple; that's them, on the right.
Apparently, when all else fails, certain people feel the need to resort to all out lies/ playing to homophobic fears and projections about butch Dykes.
While the usual suspects may try to pitch a fit, resorting to fake photos and  utilizing the usual "activist judges" trope, a closer look at the judges is certainly well worth the look:
None of the three Third Circuit judges who ruled unanimously to overturn the ban could be accused of liberal bias. Gerald B. Cope, Jr. was appointed by Republican Governor Bob Martinez in 1988. Vance E. Salter and Frank A. Shepherd were each appointed by Governor Crist. (Crist was a Republican before switching to Independent in order to run for the U.S. Senate.)

Salter was also honored by Pope John Paul II for his charitable service. And Shepherd was appointed to a position in the Environmental Protection Agency by President Reagan in 1981. He has also held senior positions in the conservative/libertarian Pacific Legal Foundation and James Madison Institute.
By way of reaction, in the short term, a small band of wingnut religious supporters of such unconstitutional discrimination are already mounting their campaign to demand McCollum appeal the ruling in an attempt to maintain the ban.
See Group seeks reinstatement of gay adoption ban
Oneal Dozier and others who argue that living in a same sex household encourages children to be gay want Bill McCollum to file an appeal in opposition to the district court of appeals' ruling. "They deserve to grow up desiring mates of the opposite sex, and not of the same sex," said Dozier, who rallied with supporters of the ban Thursday. "The environment would take them over."

If the Attorney General doesn't file an appeal by October 22nd, the September ruling will stand. "It's not quite over yet," said Gill, who lives with his partner and has been fighting to keep his sons for years. "We have one more hurdle, and that is the Attorney General's Office, and, really, it can't be over until the Attorney General also gives us the assurance that they are not going to appeal."
Naturally, "Oneal Dozier" is of course in actuality, South Florida pastor Rev. O'Neal Dozier.
See Rev. O'Neal Dozier Protests Lifting Gay Adoption Ban: Fears Kids Will Be Forced to Be Gay which I'll quote at length:

Unsurprisingly, some homophobes aren't happy about it. South Florida pastor Rev. O'Neal Dozier this morning held a rally against lifting the ban and says he thinks it will lead to children being forced to be gay. Dozier isn't a lone loon; he's quite prominent and a former Jeb Bush appointee.

Here's the money shot of CBS4's report on the protest Dozier held this morning outside a Fort Lauderdale office of the Department of Children and Families:

The Rev. ONeal Dozier told CBS4's Ted Scouten that while he has no science to back it up, he fears children raised by gay parents will become gay, which is something gay rights groups call backward thinking.

"See, gays are not born, one is either made gay, forced to be a gay, or one selects that particular lifestyle," according to Rev. Dozier.

This isn't the first time Dozier has spoken out about homosexuality.

"Why is it one of the paramount of sins?" he's quoted as saying about homosexuality by New Times Broward Palm Beach in 2003. "Well, it is a very bad kind of sin because it really hurts society in so many ways." God, however, found a way to punish the homosexuals through HIV-AIDS, he says. "It is a type of judgment for such a sin as this one, homosexuality."

Homosexuality isn't the only topic he pushes buttons on.

He was firmly opposed to Hillary Clinton's 2008 presidential campaign simply because she was a woman. He worried it would embolden feminists and terrorists, and tear families apart.

He has also claimed America is at war with the entire religion of Islam.

Not only is Dozier pastor of the Worldwide Christian Center of Pompano Beach, but also he has close links to the Bush family.

He was invited to the White House to offer advice to the president during George W. Bush's term.

He was also appointed twice by former Gov. Jeb Bush to the 17th Judicial Nominating Commission. Jeb, however, ended up pushing Dozier to resign after he made the comments about Islam.
You can find video of his "forced to be gay" rant via the local CBS affiliate, Group Protests Overturning Of Gay Adoption Ban.
Dozier isn't just all worked up about Queer adoptions, he's an adoption marketer pushing adoption to christians within churches as a means to christian adoption movement growth and specifically church growth via the One Church One Child ministry.
In 2005 Governor Bush appointed Rev. Dozier to the Board of Directors of the adoption program, One Church, One Child of Florida, Inc.
To put it bluntly, he and the OCOC program are in direct competition with Queer couples for kids in foster care.
It should come to no one's surprise then, that he is utilizing every avenue open to him to ensure that supply of kids is made available to his ideal candidates as far as adoptive families goes, and that all other families, families he considers nothing less than a competing ideology for the hearts and minds of kids, must be nothing short of barred by the state from being able to adopt.
Florida, of course, is notorious for the cozy relationship between evangelical churches and the state when it comes to child welfare.
On the church's website Dozier brags of both his connections to politicians, particularly the Bush family and his keynotes at multiple Reclaiming America for Christ conferences (Mike and I attended several as part of our oppositional research.)
In 2005 and 2006, the Reverend was under contract as a panelist on NPR's News and Notes Roundtable hosted by Emmy-award winning journalist, Ed Gordon.  Dr. Dozier was a keynote speaker at the Reclaiming America for Christ 2003 and 2005 conferences hosted by Dr. D. James Kennedy and the Coral Ridge Presbyterian Church in Ft. Lauderdale.  In April of 2009, Dr. Dozier was appointed to the Board of Directors of the Christian Coalition of Florida.  In November of 2009, Broward Right to Life honored Rev. Dozier with the Bart T. Heffernan Guardian of Life Award for over two decades of strong advocacy for the protection of the unborn by preaching against abortion from the pulpit and rallying against abortion on the streets and in the media.  Rev. Dozier continues to do numerous radio and television interviews across the nation, discussing political and social issues of the day.  His weekly radio broadcast, "Teaching that Changes Lives," can be heard weekly on WAFG 90.3, GraceFM, the radio station founded by Dr. D. James Kennedy.  Rev. Dozier is a member of the Broward Republican Executive Committee (BREC).
When he's not whining about Queers "forcing" their foster kids to become gay, or receiving awards from anti-abortion fanatics,  Dozier and his buddies are out and about passing out Chick tracts against Islam. See Black Ministers Preach Against 'Evil' New Mosque: Coalition To Distribute Comic Strip Booklet About 'Islamic Fascism' and the link within the piece to the associated slideshow with images of the tract itself.
Sure enough, the Chick tract in question is "Allah had no son."
Longer term, the possibility of a statewide ballot measure looms:
Equality Florida, the state's largest LGBT rights group, said on its Web site that the decision not to appeal the Gill case was a "tremendous victory," but added, "The same anti-gay forces who pushed for Florida's marriage amendment in 2008 will likely try to put a return of the adoption ban up for a statewide vote [in] 2012."
---
My personal take on all this, writing as a Queer Bastard?
Well, beyond the details of the persona and political pitfalls of the swamps of Florida,  there are the real issues at stake here.
Anyone who's been reading along on my blog over any length of time knows how highly critical of adoption as currently practiced I am.
That said, so long as the institution itself exists, I believe barring any any class of people purely on the basis of prejudice and lies is simply wrong.
It would be nice if Queers could step back for a minute and get a broader look at the landscape of things like inter-country adoption and what they support when they support such, but when it comes to the foster system? I think first and foremost, Queers along with everyone else need to grapple with some of the issues that arise there too.
But there are other circumstances as well. Particularly older kids some of whom are Queer themselves. I find those cases in particular far less problematic.
Over and over again, what I consistently find is that many of the same groups and individuals opposing my basic human rights as a Bastard, are also the exact same groups and individuals opposing my basic human rights as a Queer.
Examples like George Rekers and ONeal Dozier personally embody such, more than making my point for me.
Queers need to understand the broader picture that those who oppose their ability to raise children ALSO oppose the human rights of Bastards and work against us.
Likewise, Bastards need to understand the broader picture that those who oppose our human rights, also oppose the ability of Queers to raise children at all, deeming them "unfit" to be parents, and working to ensure that only those they deem" fit", heterosexual, married, preferably christian are enabled, indeed even subsidized by the state to gain access to and raise children made available via state programs.
Fortunately, with poster weasels like (seemingly) het, married, christians along the lines of Mr. Rekers as examples (what with the  running off to Europe with Rent boys and all) those who oppose all our rights tend to wear their hypocrisy on their sleeves.