The 10 arrested Christian Scavengers had an adoption centered "mission" for the kids they were caught trying to remove illegally
Obviously, there are a great number of things I could say about the ten American missionary child scavengers sitting in a Haitian Jail at the moment.
But what I have to say is not the point.
It's their own words that are at issue here.
Already,  just in the short time since their arrests, conflicting stories and conflicting quotes have come from members of this attempt to unlawfully remove children from Haiti. I could spend many hours pulling different quotations. Instead I'm going to cut to the heart of  what genuinely matters: family members are making provably incorrect claims that the group was merely moving kids across the border as part of some attempt at some form of what they (mis) characterize as essentially humanitarian relief work, denying any adoption purpose behind their actions. Take this from the BBC as but one example:
Sean Lankford of Meridian, Idaho, whose wife and daughter are among those held, told the Associated Press: "The plan was never to go adopt all these kids. The plan was to create this orphanage where kids could live."
Their own "Haitian Orphan Rescue Mission" document (local copy here) makes it clear beyond any shadow of a doubt that exporting children for purposes of inter-county adoption lay at the very core of what they went to Haiti to do. Emphasis in the below is my own.
Future Buildings and Plans for NLCR in Magante

Nueva Vida Refugio de Ninos: Provide a loving Christian home‐like environment for up to 200 children, both boys and girls, initially focused on ages 0 ‐ 10 years old, later expanding to include teens up to age 16.
Nueva Vida Escuela Cristiana: Provide a solid education for children in the refuge as well as in the local community if have sufficient space/resources. Plan to begin with PreSchool/Kindergarten up to 6th grade, teaching English/Spanish, Reading, Math, Science, History, Geography, Health, Music/Art, as well as Christian values/truths. Plan to add higher grades and courses on vocational skills when needed.
Nueva Vida en Christo Capilla: On site Chapel for the children from the refuge and the community
Sick Bay/Medical care: for incoming children that are in need minor medical care
Greenhouse/Livestock: Provide for nutritional needs of the children by growing fruits and vegetables and raising cows/chickens for milk and eggs
Seaside Villas at Playa Magante*: Villas for adopting parents to stay while fulfilling requirement for 60‐90 day visit as well as Christian volunteers/vacationing families.
Provide opportunities for adoption through partnership with New Life Adoption Foundation which works with adoption agencies in the U.S. to help facilitate adoptions and provide grants to subsidize the cost of adoption for loving Christian parents who would otherwise not be able to afford to adopt.
Seaside Café at Playa Magante*: small beachfront restaurant serving the community and adopting parents
Why a 60-90 day 'visit'?
Not because wannabe adopters thought it might be nice to spend some time getting to know the country the child will be exported from.
Nope, the vaporware (eventually hoped for) "Villas" and facilities, right down to an on site restaurant, were being designed to form a bubble of sorts for international adopters to be able to fulfill the Dominican Republic's adoption residency requirements:
Once a child has been assigned the adopting couple must come to the Dominican Republic to live with the child, under the supervision of CONANI, for a period of at least 30 or 60 days.

If cohabitation with the child is successful, CONANI will issue, within sixty days from the termination of the cohabitation period, a certificate stating the applicants have been found to be fit to adopt the child.
Similar bubble type arrangements develop in many international export countries near the airports, often in hotels, be that in China, or India, or Guatemala City's "baby hotels:" the Marriott,  the Radisson, or the Camino Real back in the heyday of the Guatemalan exports. Such facilities enable wanna be adopters to fulfill their in-country residency requirements while maintaining a semblance of their western lifestyles.
That the "New Life Children's Refuge" was rooted in ideas of setting itself up as an adoption export hub in the Dominican Republic is all right there, in black and white.
We will strive to also equip each child with a solid education and vocational skills as well as opportunities for adoption into a loving Christian family.
That's not 'some' kids, or 'a few' kids, that's "EACH CHILD."
Not just any adoption export center, a very explicitly Evangelical and proselytizing adoption-based facility, preparing kids for export. Again, quoting the BBC article (emphasis added by me):
The charity, which Ms Silsby incorporated in Idaho in November last year, says it is "dedicated to rescuing, loving and caring for orphaned, abandoned and impoverished Haitian and Dominican children, demonstrating God's love and helping each child find healing, hope, joy and new life in Christ".
Which is to say, ensuring the kids themselves underwent a 'christ centered' "healing" process with the aim of ensuring the kids themselves "find… a new life in Christ."
Hoping that a number of them could be exported to wannabe adopters deemed spiritually suitable as well.
I've noted some number of reporters mentioning the idea of the kids being brought back to "an orphanage" in the Dominican Republic.
Let's get some basic facts straight. Laura Silsby, CEO of personalshopper.com,  apparent creator of this little child "shopping expedition" into Haiti, and current arrestee in Haiti was not taking them to some pre-existing facility with a full time staff, let alone a staff prepared to help kids through the trauma they had just endured. What we're talking about is a rented hotel:
…an interim solution in nearby Cabarete, where we will be leasing a 45 room hotel and converting it into an orphanage until the building of the NLCR is complete. This interim location will enable us to provide a loving environment for up to 150 children, from infants to 12 years old.
Then one of the most shocking details of the plan hides tucked down in the next paragraph which I will quote in full:
Team Needed: NLCR is praying and seeking people who have a heart for God and a desire to share God's love with these precious children, helping them heal and find new life in Christ. Please prayerfully consider a 2 week or longer mission trip to help NLCR provide rotating staffing for the care of the children over the next 6 months.
Yup, you read that right, basically putting out the call for missionaries, Joe and Jane average who want to help the kids "find a new life in christ," to head down to the Dominican Republic for a stint as short as perhaps a mere two weeks. I.E. Missionary tourism at its best.
They hoped to find enough volunteers in two week rotations to fill out the next 6 months until they could move into the next phase of possibly building their little pipe dream.
So what if volunteer missionaries didn't show up? What if the funding didn't come through?
Well, then you've a got a pile of Haitian kids stuffed into a hotel with the rent coming due.
This is exactly the kind of unlicensed, unstaffed, missionary "orphanage" nonsense Haiti was saddled with long before the quake.
So who were these child scavengers on their little "mission" playing 'capture the child' in Port-au-Prince?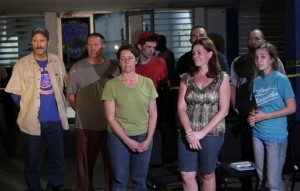 Laura Silsby, 40, of Boise, Idaho; owns Personal Shopper Inc, an online shopping assistance company
Charisa Coulter, 23, of Kuna, Idaho
Corinna Lankford and Nicole Lankford, 18, of Middleton, Idaho
Carla Thompson, 53, of Meridian, Idaho; missions co-ordinator at the Central Valley Baptist Church
Silas Thompson, 19, of Twin Falls, Idaho
Paul Thompson, 43, of Twin Falls, Idaho
Drew Culberth, 34, of Topeka, Kansas; a part-time youth pastor at Bethel Baptist Church in Topeka, Kansas, who was given time off to go on the trip because of his firefighting experience and emergency medical training
Steve McMullen, 56, of Twin Falls, Idaho
Jim Allen, 47, of Amarillo, Texas
I strongly urge readers and reporters to carefully assess the statements that have been made and are still being made by the New Life Scavengers in light of their own words, their plan, if you will.
Finding the contradictions is a simple matter, once you put on the secret decoder ring they themselves have so thoughtfully provided.
---
Return to the Table of Contents of my Haiti series.