Adam Herrman / Irvin Groeninger III case- Chief Prosecutor – the Herrmans "are the suspects in this case"
This is the latest post in a series I have done around the Adam Herrman/Irvin Groeninger III case. I urge readers to explore my earlier work to gain familiarity with the case and my interpretation of it. See my Irvin Groeninger III tag for more. My most recent post will always appear first on the tag.
***
I've been advising readers to use KWCH's chart profiling Adam Herrman's Family to help keep track of the variety of voices in this story.
By way of a second tool, I'd also like to point readers towards the Wichita Eagle's A timeline for the Adam Herrman case. It too, is very useful in keeping track of the all the dates in this story.
***
On a personal note, yeah I haven't been blogging as much as I'd like to over the past week, not for lack of material, but for lack of time.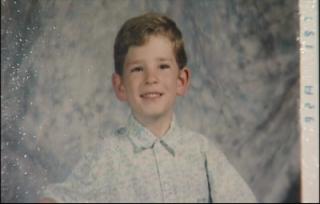 On Saturday, The Wichita Eagle published the first public comments about the case from from the Butler County Chief Prosecutor, in the comments the boy's adoptive parents were for the first time (to my knowledge) described as "the suspects." See Prosecutor: parents are suspects in Adam Herrman case:
Butler County's chief prosecutor said Friday that the adoptive parents of 11-year-old Adam Herrman are suspects in his 1999 disappearance and that the investigation could result in murder charges.

Referring to Doug and Valerie Herrman, Butler County Attorney Jan Satterfield said, "They are the suspects in this case."

In her first public comments about the case during an interview with The Eagle, Satterfield said that although searches have not found any human remains, there is potential for charges of first-degree felony murder, with the underlying crime being child abuse.
Despite the wave of publicity, to date there has been "no indication that he exists out there:"
Although investigators have not ruled out the possibility that Adam is alive, detectives have found "no indication that he exists out there," Satterfield said.

No charges have been filed against the Herrmans. Valerie Herrman's attorney, Warner Eisenbise of Wichita, has also said that she denies harming Adam.
In another subtle shift in the case, we also see Warner Eisenbise now quoted as Valerie Herman's attorney. Doug Herrman has retained a separate attorney of his own:
Wichita lawyer Dan Monnat said Friday that his law firm is now representing Doug Herrman. Monnat declined further comment.
As the Herrman's son, Justin has previous said his mother was the one who abused Irvin / Adam, and his father had stepped in to stop it, I am not altogether surprised to see separate attorneys representing their respecting interests, see Relatives say missing Butler County boy was abused:
Justin Herrman, 29, who is the biological son of Valerie and Doug Herrman, said he never saw his father abuse Adam.

"He's actually stopped it many times," said Justin Herrman, who was about 7 years older than Adam.

Over the years, at different homes around the Wichita area, his mother "would start hitting him or beating him with a belt," Justin said.

His father "would stop her and say, 'That's enough, Valerie,' " he said.
Clearly though, both adopters failed to report him missing, and assumedly both were part of the financial fraud, claiming the boy time and again after he was long gone. (Which I hope to detail further in a separate post as there's news on that front as well.)
One of the other major issues with the case has become when various records will come to be released.
As I first reported back on January 15th, (see this article, SRS to review contacts with Adam Herrman, for the quote below) the Wichita Eagle, (potentially among other media sources,) along with Kansas State Senator Jean Schodorf (see Kan. lawmaker seeks audit for case of missing boy) are seeking records of the State's interaction with the Herrman family.
The Eagle has filed a request with SRS under the state's open-records law for information about Adam.
Chief Prosecutor Jan Satterfield is urging such be delayed so as not in interfere with the development of building the case:
Satterfield's comments Friday came during a telephone interview about her attempt to keep the state child-protection agency from releasing to the media any records about Adam. Those records would include any allegations of him being abused.

Satterfield said that public disclosure would reveal witnesses and interfere with the investigation into Adam's disappearance.

On Thursday, a judge in Butler County granted a temporary order prohibiting the Kansas Department of Social and Rehabilitation Services from releasing records about Adam that "touch upon alleged acts of neglect or child abuse directed towards Adam Herrman." A hearing on whether the prohibition will continue has been set for March 1.
Allow me to quote this portion of the Wichita Eagle article at length:
Blocking the records

The Eagle has sought SRS records on Adam under an exception in the law that allows the information to be disclosed when a child dies or nearly dies and it is related to abuse or neglect.

SRS spokeswoman Michelle Ponce said the agency had been prepared to release information about Adam based on the Butler County Sheriff's Office treating his disappearance as a homicide investigation.

But Satterfield said: "I think it's prudent for law enforcement and my office to review the records that are proposed to be released and identify potential witnesses and take statements before they're disseminated to the general public because we are looking at potential child abuse charges" and potential felony murder charges. Such charges can come, she said, when there is evidence of a murder committed in the process of an "inherently dangerous felony" such as child abuse.

Blocking the release of SRS records is "not in an effort for the public not to know," Satterfield said.

"We just don't want that investigation compromised in any way."

In another document filed Thursday in Butler County District Court, the Wichita Clinic objected to any release of Adam's SRS file, saying it contains records with "personal health information protected by the physician-patient privilege" and federal law.

The clinic said it has "not received proof, notice, or the suggestion of death of Adam Herrman from law enforcement."

Satterfield said the purpose of the investigation is "to search for Adam and at the same time to determine if Adam is dead, or any facts that might lead us to potential homicide charges."
Also last Thursday the article continues, an "interesting tip" came in:
Also Friday, Butler County Sheriff Craig Murphy said detectives received an interesting tip Thursday, but he wouldn't elaborate.

Murphy described it as "an interesting tip that has created some questions for us that have got to be answered."

He said detectives don't plan any searches for Adam's remains in the near future but are continuing to investigate and seek tips.
Finally, I also want to pull several quotes from this KSN piece originally posted Saturday the 17th and then updated on the 18th, DA: Herrmans are suspects in Adam's disappearance:
Butler County's top prosecutor says the adoptive parents of an 11 year old boy who vanished ten years ago are suspects in his disappearance and could face murder charges even if police never find his remains.

"There's been no record of him for ten years," said District Attorney Jan Satterfield. "That means something in my mind. It's not as if he's been a short period."

No one has seen Adam Herrman alive since 1999.
Also note:
Satterfield said even if no body is ever found it is still possible for the Herrman's to be prosecuted on murder charges.

"Yes, it's rare," said Satterfield. "Understand he hasn't been seen in 10 years. It hasn't been 2 weeks or 2 years."

While public pressure has been mounting to move the case forward and hold someone accountable, Satterfield said police and prosecutors will take their time building a case. She said if and when charges are brought against the Herrmans her office will present its entire case at once.

Records show Valerie and Doug Herrman continued to collect money from the state for their foster care of Adam for years after he disappeared. Satterfield said her office will hold off on theft or fraud charges until the investigation is complete because of concerns about double jeopardy and constitutional due process laws.

Satterfield said if her office convicts the Herrmans of child abuse it may make it difficult to charge them with murder charges related to the abuse because of double jeopardy.

"We're not going to respond to the public pressure," said Satterfield. "We're going to do the right thing and these things take time."